Karen Gillock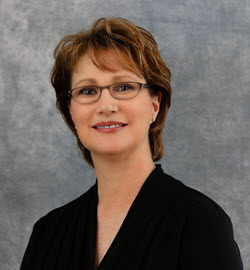 I am a clinical psychologist licensed in the State of New Hampshire since 2002, and I've been in private practice since 2007. In my private practice I use the approach of evidence-based Cognitive Behavioral Therapy (CBT).  CBT has been well-researched and applied to issues ranging from depression and anxiety to the improvement of the quality of relationships, personal effectiveness, and health.
CBT is my chosen tool of the trade because I believe it provides the most effective, efficient way to help people with anxiety and related problems, including depression, stress, trauma, medical conditions (behavioral medicine), and cancer survivorship.
It's been a real privilege to know that I've helped people to do difficult things they thought were all but impossible – things like kicking self-defeating behaviors, taking a flight to visit loved ones, finishing a dissertation, cultivating better interpersonal relationships, and overcoming all manner of anxiety, stress, and depression to pursue healthy, happy, productive lives.
My interest in anxiety and CBT began back in the late 1980's when I began my undergraduate training at the University of Cincinnati, and that interest only increased during my graduate training at the University of Illinois at Chicago. A post-doctoral fellowship opportunity brought me to New  Hampshire and Dartmouth  Medical School in 1999. There I honed my expertise in anxiety disorders and developed a proficiency in behavioral medicine (what people do that affects their health and how different illnesses affect a person's behavior).
I fell in love with New England, so much so that, after my two-year fellowship, I jumped at the chance when they asked me to stay on at Dartmouth as a Clinical Associate and later as an Assistant Professor of Psychiatry. It was during this time, as I continued to develop an expertise in anxiety disorders, especially Posttraumatic Stress Disorder (PTSD), that I developed and fostered an interest in cancer survivorship. It was a great opportunity to have been active in developing the CARES Survivorship Clinic through the Norris Cotton Cancer Center at Dartmouth-Hitchcock  Medical Center.
Although I set out to develop my own private practice in 2007, I've maintained a good working relationship with Dartmouth. As an adjunct faculty member I continue my work with the Cancer Center's Survivorship Clinic. Using CBT, I provide quality, evidence-based therapy to patients presenting with a variety of concerns related to the diagnosis, treatment, and recovery from cancer, including chemotherapy-related cognitive deficits ("chemo-brain"), post-traumatic growth, end of life issues, etc. I enjoy helping patients navigate the changes and stresses associated with the diagnosis/treatment/recovery of cancer, and am participating in various research projects to help people with chemotherapy and other brain injury related memory and attention problems ("chemo-brain").
If you would like to see more details about my education, clinical work, teaching history, and research interests, please feel free to review my Curriculum VITA. If you would like more information about my licensing and good standing with the state, you can contact the New Hampshire Board of Mental Health Practice at www.nh.gov/mhpb/contactus.html.
I take pride in helping people to achieve their goals. I realize that all people have different perspectives, challenges and motivations. Both formal training and life experience inform my work, but my expertise is not sufficient for a productive therapy experience that allows you to achieve your goals. You are the essential element. Successful therapy is built on a combination of my expertise and training in research-verified CBT, your motivation and willingness to learn the necessary skills, and the development of a good trusting therapy relationship. So take some time to review my website. If you think that we might be a good fit for pursuing your therapy goals, I invite you to call or email me. I would like the opportunity to learn more about you and to explain how I work, and you can ask any questions that you may have. This can be a great first step for you in creating a happy, healthy life. Send me an e-mail at Karen@Psychologist-NH.com or call me at 603-448-3588.
Jennifer St. Laurence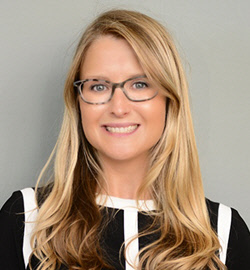 This year (through August 2017) I have the great opportunity to work with and mentor a clinical intern –  Jennifer St. Laurence, who is completing her Master of Science degree in Mental Health Counseling at Springfield College School of Human Services while working full time as the Director of Career Services at the Thayer School of Engineering at Dartmouth.*
Ms. St. Laurence is very motivated to learn the approach of evidence-based Cognitive Behavioral Therapy as she prepares for a career as a  psychotherapist. Similar to a resident at a hospital who is training to become a medical doctor, a clinical mental health counseling intern works with clients under the supervision of a licensed clinician.
This means that Ms. St. Laurence and Dr. Gillock work collaboratively to provide you with the best care possible. Student clinicians are bound by the same ethics, laws, and limits of confidentiality as licensed clinicians and all policies, practices, contractual obligations and ethical/legal expectations stated in the Treatment Contract are as applicable to Ms. St. Laurence as they are for Dr. Gillock
As one of the best ways for students to learn is through experiential opportunities, a central part of Ms. St. Laurence's training in this clinical internship involves conducting psychotherapy sessions. Ms. St. Laurence's clients must, as a condition of her supervision requirements, agree to audio-recordings that will be used in complete confidentiality only by Ms. St. Laurence and Dr. Gillock. The Consent for Audio-Recording must be signed and enacted during the first part of the first session with Ms. St. Laurence. If any client is not comfortable with this requirement, the first session will be suspended immediately and referral to another clinician will be offered.
* Ms. St. Laurence is employed by Dartmouth College; however, it is to be understood that her work with Dr. Gillock is a private business that exists as an independent entity separate from Dartmouth College. The services provided during her private business hours at Dr. Gillock's office are in no way connected to her position as an employee with Dartmouth College.